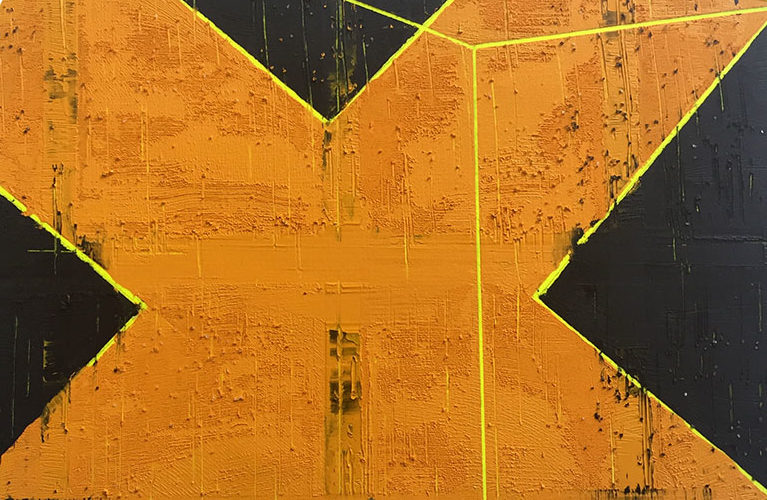 10 Apr

David Row: investigations

May 9 – June 20  2019

metroquadro, Corso San Maurizio 73/F, Torino

opening times:  Tue-Sat  4 – 7 pm

opening Thursday May 9  6:30 – 10 pm

metroquadro presents a solo show by David Row (Portland, 1949), an American artist known for his works in vibrant colors on irregularly shaped canvases.

On display is a series of recent works in oil on Arches paper – studies for larger panels and canvases – where the artist continues his search on perception using shapes, spaces, irregular polygons, and ellipses, all charged with strong energy but still balanced by a formal precision and equilibrium, yet fractured and fragmented by thin lines in vivid and fluorescent colors.

For Row, intense and saturated colors recount time spent as an adolescent living in India which greatly influenced his chromatic sensibility; a certain quality of light and color forever associated with particular experiences and references.

In his compositions, David Row leaves parts of his recurrent shapes – the big ellipses and Xes – outside of the irregular physical boundaries of the  work, leaving to the viewer's eye the chance to complete the missing parts, extending them outside of the perimeter to occupy the surrounding space, activating it and making it an integral part of the work.

These are frontal, bi-dimensional works that can also be read as spatial by adding a sculptural dimension, allowing for a further key to interpretation. Row conjures a colorful geometry made up of a reality of solid certainties, broken and fragmented by unpredictable and seemingly casual events, which question a whole that we are only partially allowed to see in its entirety.

David Row (Portland, 1949), works and lives in New York.

He received his BA and MFA from the Yale School of Art, where he studied under Al Held. Moving to New York during the mid-1970s, Row was part of that generation of abstract painters that included Peter Halley, Ross Bleckner and Mary Heilmann.

He has been awarded the National Endowment for the Arts Grant in Painting (1987) and the Isaac N. Maynard Prize for Painting from the National Academy Museum, New York, in 2008.

He exhibited in numerous solo and group shows in prominent American and international galleries.

He has been teaching in several Institutions like The Cooper Union, Rhode Island School of Design, Pratt Institute, Princeton University, Fordham University, and he is now a teacher at The School of Visual Arts in New York.

His works are in the permanent collections of, among others, the Carnegie Museum of Art in Pittsburgh, the Brooklyn Museum, the Cleveland Museum of Art and the Museum of Contemporary Art, San Diego.

The Portland Museum of Art Maine has recently acquired one of his large paintings, which is exhibited at the entrance of the museum.  In 2020 the Rockland Center for Maine Contemporary Art new building designed by Toshiko Mori will open the first stage of a traveling exhibition, hosting David Row's works in the main exhibition space.